Parking Information for Southpointe Adult High located on the JATC North Campus
The parking lot for Southpointe Adult High School and the JATC North Campus is owned and operated by the Salt Lake Community College (SLCC).  All faculty, students, parents, and other visitors MUST follow SLCC policies and rules in the parking lots.  You must enter your license plate in a Kiosk or have a parking pass whenever you visit the campus or you will receive a ticket from Salt Lake Community College.   A kiosk is available at the north end of the SLCC Campus to purchase a pass.
Anyone coming to the campus MUST enter their license plate in a Kiosk or have a parking pass.  Parking tickets cannot be waived by Southpointe or JATC personnel.  All parking appeals must be made to SLCC.   SLCC parking policies and rules can be found at http://www.slcc.edu/parking/index.aspx.
SOUTHPOINTE NEW/CURRENT STUDENTS
New Students coming in before 4:00 pm need to park in a metered stall and come in to check with the Main Office of Southpointe to obtain directions for parking.    Current students, drive by the Kiosk located across from the Jordan Distribution Center (JDC) when arriving on campus and type in the coupon code you obtained when registering.  Once you type in the code you will be required to enter your license plate into the system.
Park in Lot J5 so that your license plate is visible to the parking enforcer as they drive by your vehicle.  If you pull through make sure you have a front license plate.  If your plate is not visible, you will still receive a ticket.   If you arrive after 4:00 pm you do not need to enter your license into the Kiosk, just park in lot J5 in the yellow stalls.  The Kiosk entry is good for parking for the day.  Each time you come to school, use the coupon code provided by the school to obtain permission to park.  Codes are changed monthly.
Kiosk Location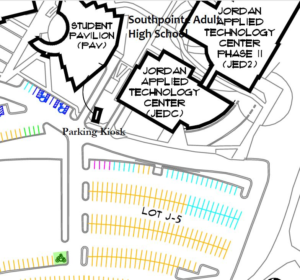 CURRENT CODE: Available to current students and upon registration
Full Map (Lot J4 has been renamed to Lot J5) -  Each time you come to school, use the code above to obtain day permission to park.  Codes are changed monthly.
Other parking options available to students through SLCC:
ANNUAL - $45
Annual permit valid from day of purchase through August 31 of the next school year. Permit fees are prorated, depending on your purchase date.
SEMESTER - $23
Semester permit valid from the start date to the end of the semester.  You can purchase a parking permit online or at seven of our campuses.
COURTESY PERMIT -
Permit owners are responsible for updating their vehicle information if they get a different vehicle, different license plate number or temporarily drive a different vehicle to campus.
License plates (rear or front) must be easily visible to the parking lot aisle/roadway. License plates displayed behind objects (bicycle racks, bumper guards) or on a vehicle dashboard are not acceptable.
Parking permits are transferable from the permit owner's vehicle to another vehicle in their possession. The permit is NOT transferable from person to person.
For more information, call Parking Services at 801-957-4011 or visit their website at:  http://www.slcc.edu/parking/index.aspx.  Any online purchases must be picked up at the Redwood Road Campus.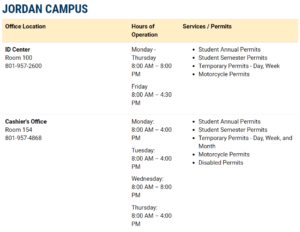 All SLCC Locations:  http://www.slcc.edu/parking/sales-locations.aspx
The following items will be needed when obtaining a parking pass:
Español
Información del Estacionamiento de Southpointe Preparatoria de Adultos
Ubicado en el Campus Norte de JATC
El estacionamiento de la Preparatoria de Adultos de Southpoint y el Campus Norte de JATC es propiedad y es operado por el College de Salt Lake Community  (SLCC). Todos los profesores, estudiantes, padres y otros visitantes deben seguir las pólizas y reglas de los estacionamientos de SLCC.
Cualquier persona que venga al campus universitario DEBE tener un permiso. El personal de Southpointe o JATC no puede renunciar a las papeletas de estacionamiento. Todas las apelaciones de estacionamiento deben ser hechas a SLCC. Las pólizas y reglas de estacionamiento de SLCC se pueden encontrar en http://www.slcc.edu/parking/index.aspx.
ESTUDIANTES ACTUALES DE SOUTHPOINT
Maneje por el quiosco ubicado enfrente del Centro de Distribución de Jordan (JDC) al llegar al campus universitario y escriba el código a continuación.
CÓDIGO ACTUAL
Ingrese el número de matrícula
Aparca en el lote J5 para que la matrícula del estacionamiento esté visible para el encargado del estacionamiento mientras conducen por tu vehículo. Si lo haces, asegúrate de tener una matrícula delantera. Si su plato no está visible, aún recibirá un boleto. Si llega después de las 4:00 p. M., No necesita el pase de estacionamiento, solo estacione en el lote J5 en los puestos amarillos. La entrada del quiosco es buena para estacionarse durante el día. Cada vez que vengas a la escuela, usa el código de arriba para obtener permiso para estacionar. Los códigos se cambian mensualmente.
Otras opciones de estacionamiento disponibles para los estudiantes:
ANUAL - $ 43 - Permiso anual válido desde el primer día de la compra hasta el 31 de agosto del próximo año escolar. Los honorarios de permiso se prorratean, dependiendo de la fecha de la compra.
SEMESTRE - $23 — Permiso semestral válido desde la fecha de inicio hasta el final del semestre.
Usted puede comprar un permiso de estacionamiento en línea o en los siete lugares de nuestros campus.
PERMISO DE CORTESIA
Los propietarios de permisos son responsables de actualizar la información de su vehículo si obtienen un vehículo diferente, un número de matrícula diferente o manejan temporalmente un vehículo diferente al campus.
Las placas (traseras o delanteras) deben ser fácilmente visibles en el pasillo / camino del estacionamiento. Las matrículas que se muestran detrás de objetos (portabicicletas, protectores de parachoques) o en el tablero de un vehículo no son aceptables.
Los permisos de estacionamiento son transferibles desde el vehículo del propietario del permiso a otro vehículo en su posesión. El permiso NO es transferible de persona a persona. Para obtener más información, llame a Servicios de estacionamiento al 801-957-4011.
ESTACIONAMIENTO PARA VISITANTES -los visitantes tienen las siguientes opciones cuando estacionan:
Estacione a un metro y pague la tarifa correspondiente.
Compre un permiso de un día en el kiosco de estacionamiento en el Campus Jordan, ubicado en el lado norte del lote J2.
Los visitantes con letrero deshabilitado deben comprar un permiso de día o validación en el quiosco. Cualquier visitante que muestre un plato o letrero deshabilitado puede estacionar a un medidor por 30 minutos sin cargo. La pancarta del estado debe ser mostrada.
Nota: Los quioscos NO emiten efectivo / cambio. No hay reembolsos por pago en exceso. Acepta Visa / Mastercard / Discover / Amex. o visite su sitio web en: http://www.slcc.edu/parking/index.aspx. Cualquier compra en línea debe recogerse en el campus de Redwood Road.
ESTACIONAMIENTO MEDICIONADO
Los medidores cuestan 25 centavos por 30 minutos y se encuentran en sitios variados en los campus. Cualquier vehículo estacionado en un medidor caducado recibirá un boleto. Si un medidor no funciona correctamente, debe moverse a otro medidor para evitar recibir un boleto.